New Member on 11 16 27



11-16-2016, 09:17 PM
Post:
#1
New Member on 11 16 27
I am brand new at this hobby. I recently purchased  Garrett Ace 400 and am presently in a "shakedown cruise," somewhat like taking out a recently built naval vessel. There is a bit of a learning curve for me that creates some frustrations. 

One of them is coin discrimination. The instruction booklet that came with the detector does not do a very good job of helping a newbie like me trying to understand notch discrimination or sensitivity settings. For me, the sweeping and listening and trying to watch the pixels is about as annoying as attempting to learn how to fly a helicopter. Thank goodness for being on the ground. 

Does anyone have any suggestions that can make this hunt somewhat easier?.
Some bio: I am a retired secondary school English instructor, married for 45 years. My wife and I have two sons, both were graduated from the Georgia Institute of Technology, one s Mechanical Engineer and the other a Chemical Engineer.
---
Coin Newbie, proud to be a member of Treasure Classifieds Forum since Nov 2016.


11-17-2016, 09:44 AM
Post:
#2
RE: New Member on 11 16 27
I would recommend not discriminating at first and digging everything until you get a feel for what the machine is telling you. 
   I personally only discriminate iron and then only in areas where there is lots of iron trash. If you discriminate foil and pull tabs you miss the gold.
  I wish you luck in your hunting and welcome to the forum , you will meet some great folks here.
Pat
---
Digsit, proud to be a member of Treasure Classifieds Forum since Feb 2016.
Remember for the good of the hobby It is better to ask for permission than to beg for forgiveness.
11-17-2016, 10:37 AM
Post:
#3
RE: New Member on 11 16 27
(This post was last modified: 11-17-2016 10:37 AM by updownup.)
Welcome aboard, hope your hunting gets easier. I don't have a Garrett 400. But i agree with Digsit. You might only want to discriminate iron, and dig the rest of the signals. Or put it in coin mode only and cherry pick. Doing the notching discrimination is a little more involved rather than normal discrimination. Good luck, and looking forward to seeing your finds.
---
updownup, proud to be a member of Treasure Classifieds Forum since Oct 2015.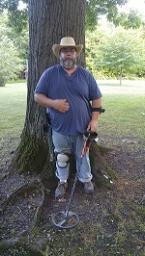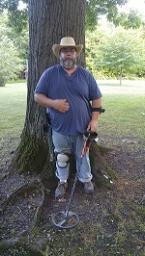 11-17-2016, 07:51 PM
Post:
#4
RE: New Member on 11 16 27
(This post was last modified: 11-17-2016 07:53 PM by Cladjunky.)
Welcome I bought the Ace 400 the monday after it was released and put over 100 hours on it if you need answers ask away and I will help all I can. At one point I could guess if it was a standard pulltab or a gold colored one

I even have a waterproof cover for the ace series I haven't ever used.
First get a Quarter/Dime/Nickle/new penny and a 1982 or older penny learn those numbers. Then take your wedding ring off and learn that number it will most likely be a solid 40 number if its 14k or alittle lower if its 10k Silver rings and such will ring in the higher numbers like a quarter maybe 3-5 poings higher. I would discriminate just up to the end of iron. Your sensativity should be as high as you can get it without getting interference random numbers on the screen. The ace 400 is a 10khz machine and pinpoints to just infront of the bolt holding it onto the shaft. If you get a signal that jumps around like 66 then 74 then 90 then 55 then 68 its usualy an iron signal press your Iron audible button and sweep over it again if you get a static popping sound its 90 percent of the time junk. Coins will give solid numbers like 86-88 for a quarter and will not change much the same for rings. There is no way of getting around not looking down at your VDI number it is what helps you alot and the odd tone you get with coins which is like a Bell going off. take a 5 foot stick and glue a quarter,dime,nickle,1984+ penny and 1983- penny about a 8 inches apart even put a tab on it if you want this will help you memorized the signal everytime you go out just toss it on the ground and go over them about 4 inches above. If you want more instructions or questions we have a tech part of the forums and a few other places I'll go much more indepth with you there.
Welcome again and Happy Hunting!
---
Cladjunky From Cleveland

Makro Racer with 7x11 coil
F75 with 11 inch and 15 inch coil DST
RT6DETECTORS.COM for the best deals!
AT Pinpointer and Lesche 31 inch

User(s) browsing this thread: 1 Guest(s)