What is your #1 favorite find detecting?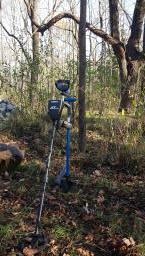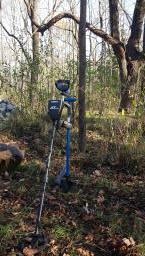 06-02-2016, 12:22 PM
Post:
#1
What is your #1 favorite find detecting?
Hey all, it's been a little slow here lately. So I wanted to start a exciting thread. What's your #1 favorite find detecting so far? I'm sure you all have one, or two or maybe three... But what takes the cake, which one is your prized find, the one you'll never forget finding?
Share pictures and the story here!
Hope to see some comments.
GL and HH all
Zach
---
Zachbl92, proud to be a member of Treasure Classifieds Forum and detectorist since Nov 2015.
Garret At Pro(12x13, 8.5x11, 5x8, 4.5") Garret At Pinpointer, GG original headphones, Predator Piranha/Little Eagle T shovel, Lesche hand digger.
Button Count FTY: Lost count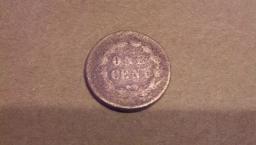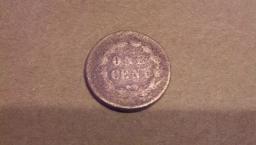 06-02-2016, 10:02 PM
Post:
#2
RE: What is your #1 favorite find detecting?
I've had lots of cool finds, but one stands out for me. I've told this story before, so some of the members that have been here for awhile have read it before. My favorite dig was a 1901 V Nickel. My son was turning 5 and he wanted a metal detector after seeing some White's commercials on tv. He got a little Bounty Hunter Jr for his birthday. We were diggin coins all over the yard. Wheaties were all around and a few silvers popped too. But it wasn't until we went to the local park that I really got a thrill. We dug a 1901 coin. It was our oldest coin and I didn't even know what it was. I knew it said 1901 and I couldn't believe it. That's the one that hooked me and I won't forget it.
---
PittsburghWill, proud to be a member of Treasure Classifieds Forum since Jul 2013.
"A little nonsense now and then is relished by the wisest men"  Willy Wonka

I've lived. Not always well, but long enough.


06-02-2016, 11:09 PM
Post:
#3
RE: What is your #1 favorite find detecting?
I feel my favorite find was my first large cent, 180* (last number was worn out).
I was hunting in a school field, it was fourth of July and I promised my daughter that I would take her to see fireworks. My son was at the in-laws and my wife was working evenings. I get a good signal but couldn't locate it (no pin pointers back then).
I must have dug down and to the sides - finally with my daughter on her bike asking me , "when are we going dad?", I pull out a cool large cent, my first and right under my nose (so to speak) - because this park was very close to home.
I was so excited - I didn't want to leave that field but I did and took my daughter to see the fireworks show. I bought here ice cream too as a reward for waiting for me.
Crazy hobby for sure.
---
Bigtony, member of Treasure Classifieds Forum since Jan 2015. Took some time off
but back now in 2018.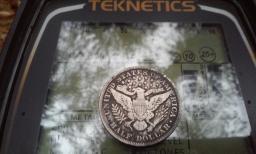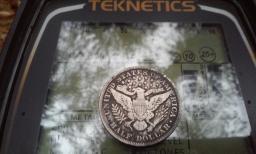 06-08-2016, 11:07 PM
Post:
#4
RE: What is your #1 favorite find detecting?
Great question Zach first off hope you get the response your looking for on this thread . I have had many great finds , but the one I feel is my most cherished would have to be my toy town tavern silver spoon..  It's not how I found it or where but the historical figures that could have used it. Toy town tavern catered to the high class from mid 1800s to 1950s. Such people as Albert Einstein,  Marlyn Monroe,  president Roosevelt, Kennedy,  and many others . Just imagine who could have used this spoon I now hold in my collection.  The Winchendon historical society has a collection also.
---
Detecting is more than a hobby, it is a passion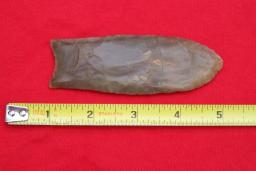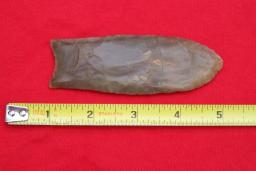 06-08-2016, 11:26 PM
Post:
#5
RE: What is your #1 favorite find detecting?
I have found quite a few nice items, but the one I remember best was my first silver, and I found it on my first attempt. I wanted to learn the detector using a "test garden" with a penny, nickel, dime, quarter and half, 5 coins , in a long line. But I kept getting 6 signals. Dug up all the test items and still got a signal. Turned out to be a nice Mercury, just by chance in my little test area!
---
shadeseeker, proud to be a member of Treasure Classifieds Forum since Oct 2015.


06-09-2016, 08:23 AM
Post:
#6
RE: What is your #1 favorite find detecting?
This is a hard one , my gut reaction is the one dollar gold coin dug at the old auction house/tavern brothel site from this spring. But upon reflection I think I have to go with the melted plastic box from a few years ago. It had been a cheap jewelry box that went through a house fire. When I melted the plastic away there was a Morgan silver dollar , a WW II Navy hat badge , a Toledo bus token and a 10 k gold ring with an aquamarine set in it.
   When I showed the landowner what I had found he contacted the daughter of the couple that lost everything in that fire ( the fire had been in the early 70s). When she contacted me she knew nothing about anyone in the Navy , and nothing of the silver dollar. She did know the ring , it was her deceased Mother's wedding ring. We met and talked at great length about her parents and the fire. We shared a few teary eyed moments when I gave her the ring. I offered her the rest of the items from that hunt , but she was just thrilled to get her Mom's lost ring.
   I get a Christmas card from her every year now. 
   Thanks for letting me relive the great feeling of returning it to her and for the great post.
Pat
---
Digsit, proud to be a member of Treasure Classifieds Forum since Feb 2016.
Remember for the good of the hobby It is better to ask for permission than to beg for forgiveness.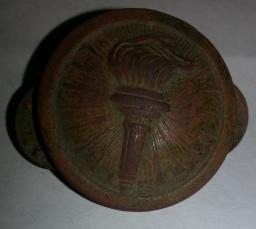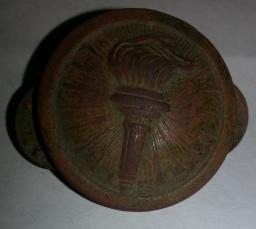 06-09-2016, 09:28 AM
Post:
#7
RE: What is your #1 favorite find detecting?
Zach my first significant find was a gold ring from the 1970 Copa Mundial de Futbol ( world cup of soccer). It made me fall in love with detecting. However the collar disc that you see in my avi is my favorite find to date. It had both clasp still in tact on the back. And who can forget their first silver ?
---
I have 3 best friends. Their names are Ace 350 , AT Pro ,  and a Fisher F 75 but I like people too.


06-10-2016, 10:56 PM
Post:
#8
RE: What is your #1 favorite find detecting?
(This post was last modified: 06-10-2016 11:12 PM by RelicMedic.)
Mine would have to be the spill of 8 reales I found a couple of years ago. There were 5 in total: 1790,1791,1798,1807,1808. I was fairly new to the Etrac and still getting to learn it. I had a very choppy signal, an 11:46 that only came in some of the time. I remember hearing that a deep dime or a dime on edge sometimes sounds like this, so I dug a deep plug, stuck the pinpointer in and it gave a few chirps. I kept digging, and down about 12" , I saw a rim. I initially thought it was the top to a can...until I saw the edge. I just about lost my mind! I went home and cleaned up the coin. 1808 8 reales! Unfortunately, I had to go to work, and let me tell you that it took every ounce of discipline in me to not call in sick. The next day, after my night shift, I couldn't sleep. My mind was racing! I went back out to the field, turned on my detector and walked to where I dug the 1808. I cranked up the sensitivity and took one step before I heard a nice tone. Dug about 9" and saw another big rim. 8 reales #2! A few feet from that one, I got a screaming signal. Down about 9" again, I saw a rim...no wait...two rims!! I was shaking like crazy! I walked the grid with no luck until my last pass, right by the ditch. Solid signal at about 5". I thought for sure it was going to be a copper...or a can. You guessed it, 8 Reales #5! I didn't get the first one on video, but I did get the last 4. It was and still is, my greatest find. I'm not quite sure how I'm going to top that, unless it's colonial gold or a rare button. Great idea for a thread, and some wonderful stories from you guys. Keep em coming! !
---
RelicMedic, proud to be a member of Treasure Classifieds Forum since Nov 2014.

User(s) browsing this thread: 1 Guest(s)