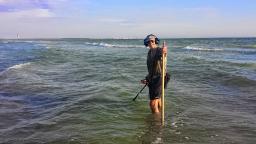 Mike Miller
(Suncoast Research & Recovery Moderator)




Registration Date: 12-18-2014
Date of Birth: Hidden (73 years old)
Local Time: 12-15-2017 at 06:02 AM
Status:

Offline
Mike Miller's Forum Info
Joined:
12-18-2014
Last Visit:
09-15-2016 09:47 AM
Total Posts:
401 (0.37 posts per day | 0.97 percent of total posts)
(Find All Threads — Find All Posts)
Time Spent Online:
5 Days, 21 Hours, 28 Minutes, 51 Seconds
Members Referred:
18
Reputation:
12 [Details]
Referrals (18)
wgk64, Redfish, Gummibear, estennes, bareftnfl, Lbluevet, DiggerGlen, tjgaj4, Ben, wseawall, Trash Man, civilwarren, Frey47, Dale Ingham, dc426, sheila hager, Derek Asklar, troutfisher
Items:
This user has no items. (View All Items)
Coins:
5,941 coins
Additional Info About Mike Miller
Sex:
Male
Location:
Florida Gulf Coast
Bio:
Been detecting for approximately 25 years. I focus mainly on water hunting along the Gulf Coast of Florida. Enjoy Relic hunting when the opportunity presents itself. Have detected in the USA, Lithuania, and Malaysia.
Mike Miller's Signature
Mike Miller, proud to be a member of Treasure Classifieds Forum since Dec 2014.