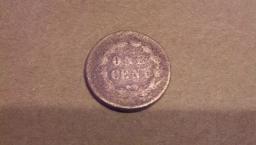 PittsburghWill
(Subterranean Trash Removal Specialist )




Registration Date: 07-10-2013
Date of Birth: Hidden (41 years old)
Local Time: 01-17-2018 at 02:12 PM
Status:

Offline
PittsburghWill's Forum Info
Joined:
07-10-2013
Last Visit:
05-09-2017 11:31 PM
Total Posts:
2,155 (1.3 posts per day | 5.22 percent of total posts)
(Find All Threads — Find All Posts)
Time Spent Online:
3 Weeks, 4 Days, 21 Hours, 56 Minutes, 5 Seconds
Members Referred:
0
Reputation:
3 [Details]
Referrals (0)
None
Items:
(View All Items)
Coins:
6,016 coins
Additional Info About PittsburghWill
Sex:
Male
Location:
Pittsburgh PA
Bio:
Too much to tell.
PittsburghWill's Signature
PittsburghWill, proud to be a member of Treasure Classifieds Forum since Jul 2013.
"A little nonsense now and then is relished by the wisest men"  Willy Wonka

I've lived. Not always well, but long enough.